Technology
In ecologic field, EKO-TRADE is able to help companies in the choice of the best solutions for the managing and valorisation of garbage and waste material. Those are the priorities we have in valuing every single offer:
Optimize materials production and recycling.
Reduce energetic consumes.
Apply laws and regulations, always changing.
Choose tested and safe production plants.
Compatibility of the plants with the environmental and life needs.
EKO-TRADE is able to support you in design and realisation complete plants for the achievement of your objectives and the fulfilment of setted goals.
Crusher Line D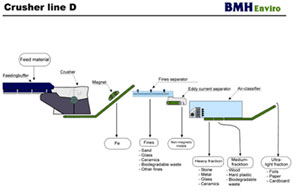 Rotor length 2400, 3200, 4000 e 4800 mm Engine power 220 kW - 550 kW Production capacity: between 10 and 100 tons per hour, depending on the crusher's kind, the sieve's mesh and the material Weight: between 50.000 kg and 110.000kg
Alternative fuel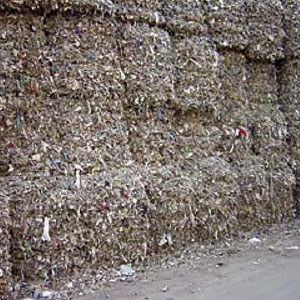 Thanks to its commercial network, EKO TRADE is able to provide RDT (waste-derived fuel) as alternative fuel, from Italy and Europe, to waste-to-energy plants, furnaces and cement factories everywhere in Hungary.
Plastic recovery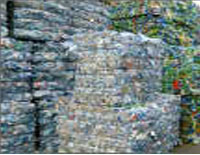 The activity consists in select plastic material. The incoming material, plastic bottles, goes to selection plants through recycling or industrial circuit. Then the material starts a path of semi automatic selection, from the bags opening to the convey on the belt. After the selection, made on the base of kind, colour and polymers, plastic is packed and delivered to companies for the recovery, while the unusable waste is used as energetic recovery in waste-to-energy plants and cement factories.
Environmental reclamation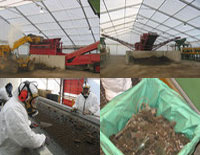 Environment is life, protect it is our task. In this mood we reclaim lands in order to prepare them for building trade or hydraulic and agricultural systems. We remove contaminant and harmful materials that we deliver to the proper disposal centres; we purify and embellish disused areas; we reclaim dumping grounds not in compliance with regulation. A specific planning, in order to guarantee the best result in the shorter time, coordinates those actions. We approach positively: we respect nature and cooperate wit it in order to create harmonious and liveable places. Our specialisations:
Environmental reclamation.
Dumping grounds reclamation.
Asbestos reclamation.
Land reclamation.
Contaminant materials remove.
Land's polluting agents analysis.